Japanese page
>> home >> contact


contact




map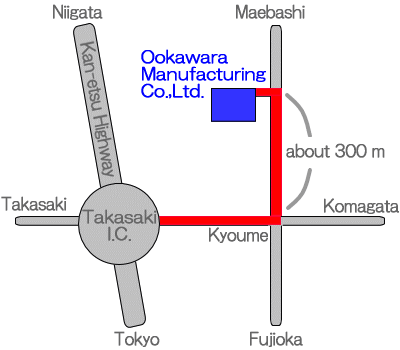 0.5 km from Kan-etsu highway Takasaki I.C.(please refer to the road map)
(approximately 5 miniutes from Takasaki I.C.)


We welcome orders even for our customer's smallest needs.
Please contact us by TEL, FAX or E-mail !

---
Ookawara Manufacturing Co.,Ltd.
386, Kyoume, Takasaki, Gunma, 370-0011, Japan
TEL:+81-27-352-1045 FAX:+81-27-352-1046
URL:www.ookawara.co.jp, E-mail:mailbox@ookawara.co.jp
2003 0okawara manufacturing, co.,ltd. All rights reserved.